I've been
impatiently
waiting to share this card with you -- and I finally can!
My dad reads my blog, so I couldn't post his birthday card until he'd received it. With the theme of
Swamp People
(a show on History Channel we both enjoy), it would be too obvious it was his. He received the card today, so now you can check it out: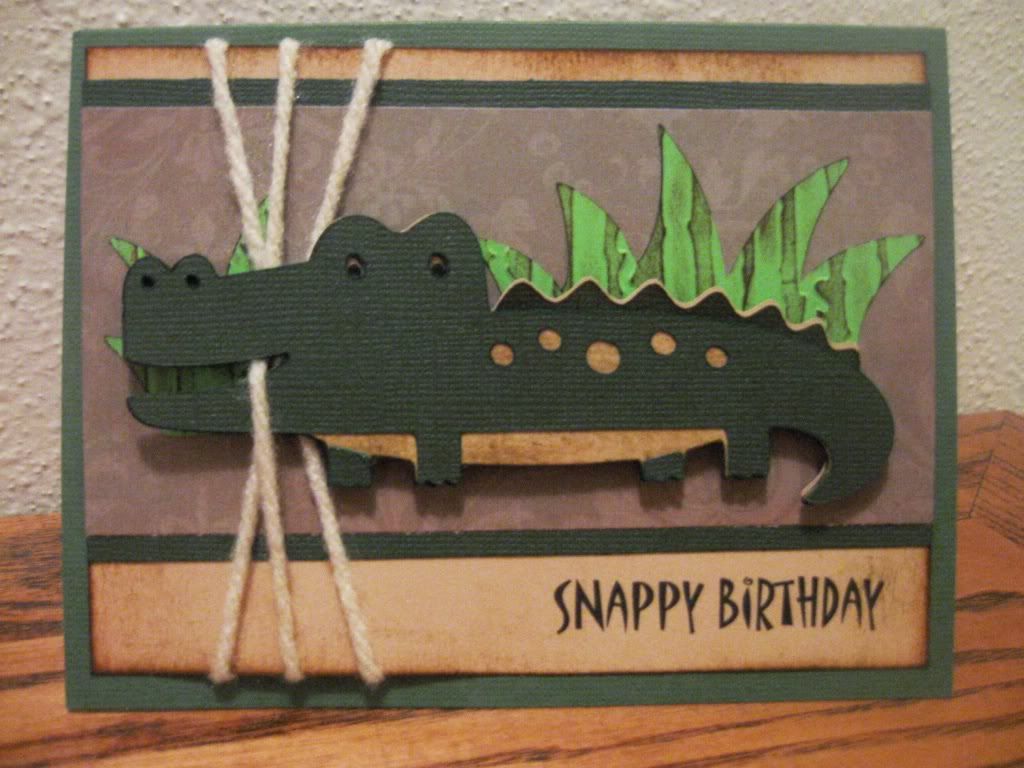 Card Base - DCWV Brights Collection (A2)
Papers - patterned brown paper from My Mind's Eye: Simply Delightful; textured dark green cardstock by The Paper Studio; all other cardstock from scraps
Cricut Cuts -Create a Critter, page 45, gator (all layers) and grass (accessory, both cuts)
Cuttlebug Embossing - Distressed Stripes on grass
Other - lots of inking with brown ink pad by Stampabilities; cream yarn from scraps; outside and inside sentiments printed from my computer.
One of my dad's favorite characters on the show, Troy, is constantly yelling "shoot 'em" when they find a gator on the line. So hubby and I collaborated on including this quote with the inside sentiment.
My favorite thing about this card is how the gator is "caught" on the line. I also like the dark, masculine colors and overall representation of
Swamp People
. I grew up in Louisiana, and it's really neat seeing my home on TV -- even if I didn't live in the swamp
For a kids' spin on the
Swamp People
theme, check out the
gator party favors
Glenda made for her grandson. They're totally cute -- and snappy, too!
You can watch
Swamp People
on Thursdays, 9/8c, on the History Channel.